Uesugi's Monozukuri style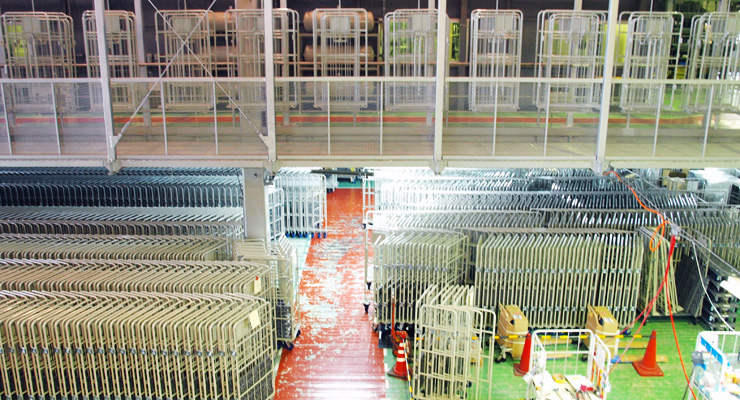 Our strength in "made-in-Japan" integrated production
- By our hands, from single pipe to casters -
We believe only high quality parts can produce high quality products. This is our UESUGI Monozukuri(=manufacturing) policy.
While many Japanese manufacturing companies are shifting their productions to overseas, However, Uesugi is particular about a product made in Japan conducted an integrated production in our own factory in Japan. This is for meeting customers' high requirements, keeping the excellent quality and delivering products on time. This shows our attitude in the uncompromising of UESUGI to assist our customers in every "carrying" scene.
For large size WORKTAINERS or even for smaller parts of HAND TRUCKS, we value on its durability and usability by producing in our own factories. This is the style of UESUGI. As one of our important policies, we apply "Double coating paint", which is high quality coating normally applying to cars, to our products. We are supporting our customers by delivering resist rusting, beautiful products.
---

Smart & speedy, low-cost production system
- "UESUGI style" evolved from Kanban method. -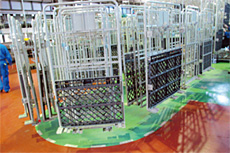 In 1993, we started our production at Yabu plant in Hyogo prefecture and implemented a production system called "Kanban method". This method made us possible to produce only how much we needed, when we needed and what we needed. And also as further rationalization efforts, later we found our own efficient manufacturing method called "UESUGI style", by building a 1km length production line and adjusting the process to avoid the peek time of electricity consumption.
In addition to the Yabu plant, now we are working on low-cost, smart and speedy production for high quality products in Osaka plant as well by applying UESUGI style.
---
Evolving manufacturing base
- UESUGI People × latest facilities = efficient process -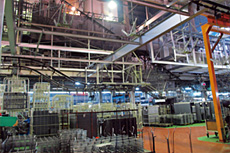 We have been introducing latest technologies to our factories continuously. Further more, the major driving forces for operating these machines and equipment are our people = "UESUGI People". They are divided in four teams of welding, press, painting and assembly. Each UESUGI people spark their ideas for improving production efficiency, seek the way for speedy processes and focus on the thorough quality control.
One of the success stories proposed by UESUGI people is the adoption of the "cell production system". We change the unit of carrying out the production. Before the adoption, we had operated the assemble process by multiple employees. Later we started to assemble by only single employee. As the result of this change, the employees' motivations got higher and also their sense of mission became stronger. This change made possible to adjust flexibly to the speed and volume of production. In the latest technology equipped factories, only trained manpower can maximize its own production capacity.
We have been investing to human capital and developing the human talent at work. Today UESUGI People are taking advantage of the powerful equipment and it will continue to upgrade the style of manufacturing.
---

The heart to respect the environment
Yabu factory - harmony with nature -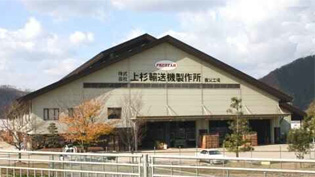 In the lush green landscape, the building of Yabu factory was designed to match those beautiful nature sceneries. It has a lodge style large triangular roof and rich bio-diverse Maruyama River is running through near by.
Recently Maruyama River, which meets Japanese Sea, was registered in the Ramsar Convention as an important river for plants and animals. Since the factory construction project started in 1990, we have been having a forum for consultation with experts and local residents to coexist with nature and develop the building as considered of high-level wastewater treatment facilities to the environment. After we've completed the project, the factory and the plant operation keep on meeting the environment standard qualification. In addition, not only the green factory project, we also are making efforts to reduce the demand-value by installation of solar panels, recycle of scrap materials, which occur in the production process and reduce CO2 emissions. We will continue to develop as a green production base. And also by the installation of welding fume dust collector, we will keep on creating an environment comfortable and safe plant.
---
Production process of in Yabu factory
- Integrated production line - to be supplied to the timely products to high quality